Factory supply Anti-fake Custom Holographic Security Stickers
Temel bilgi
model numarası.: YXCP-03
tip: Yapışkanlı Etiket
Malzeme: EVCİL HAYVAN
Baskı Tipi: Ofset baskı
özellik: Sahteciliğe Karşı
kullanım: Özel Etiket, Şişelenmiş İçecekler, Fiyat etiketi, Nakliye Etiketleri, Ambalaj Filmi, tıp
Ürün Açıklaması
Factory supply Anti-fake Custom Holographic Security Stickers
Feature of hologram security stickers
1) Eye-popping optical effect

2) Full color hologram with printing
3) High resolution photo etching
4) Hard to duplicate,brand protection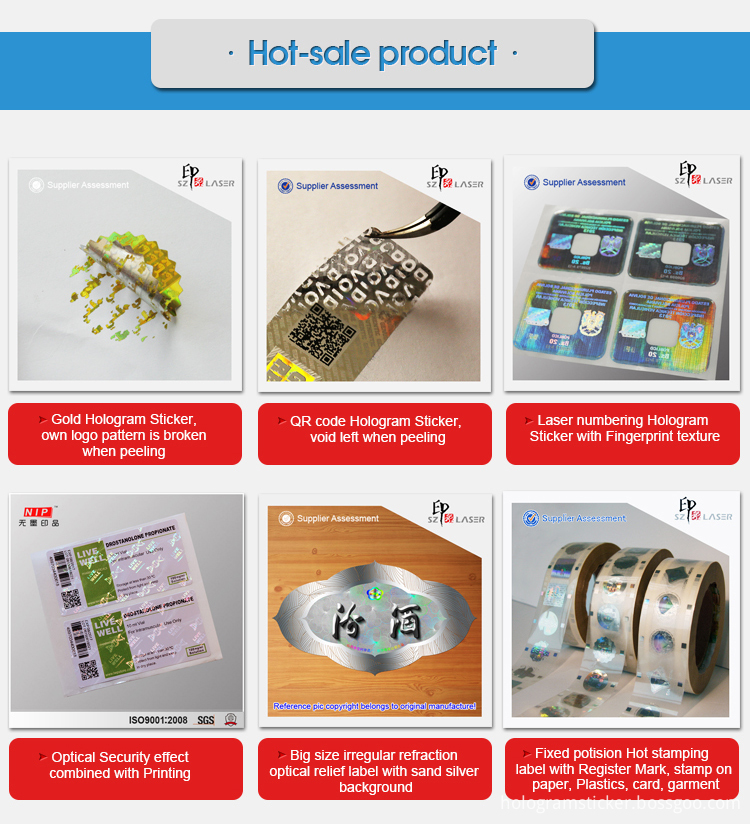 Specification
Material

Polyester film

Thickness

30 micron, 25 micron, 50 micron for id cards

Shape & Size

Customize

Color

Transparent or metalized silver, gold, blue, green and so on

Type

Hologram Security Sticker

Pattern

Over 300 generic patterns, customized pattern, free design

OEM

Warmly welcomed OEM hologram sticker

Production

Logo etching-----embossing Optical image-coating-----die-cutting-----sheet cut----Package

Combine with other processing

Multi color printing; Serial numbers; QR code; UV ink; HS ink etc

Feature

1) Eco-friendly

2) Anti-counterfeit for Brand

3) Attractive Colorful hologram

Packaging

In roll or sheet packaging, PP bag and hologram packaging boxes inside, standard export carton and white packing belt outside.
Holographic security stickers
Custom Security Stickers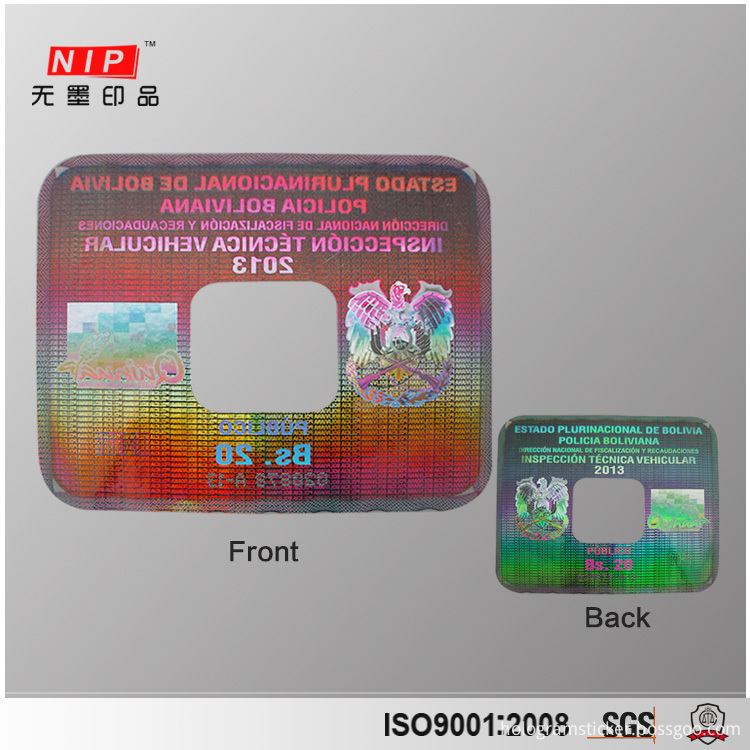 Different types Hologram sticker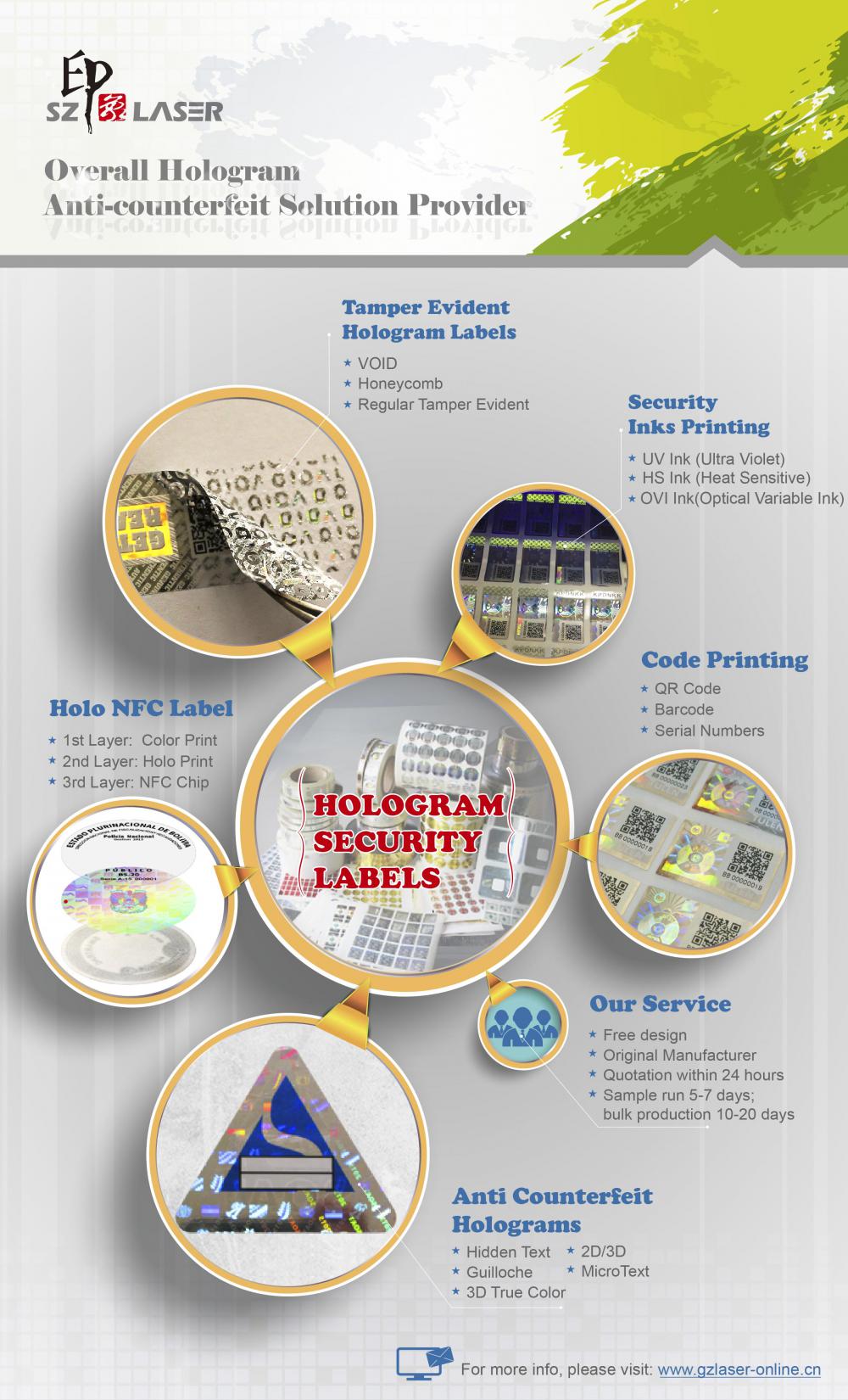 Our Service and advantages
1

OEM

15 years experience in providing personalized anti counterfeit solution!

2




Perfect Service

Customize high end anti counterfeit hologram labels

Free design in 24 hours

Sample in 3 days

Bulk order in 7-10 days

3

Production & Tech capacity

IHMA certified manufacturer for customized optical hologram anti counterfeit sticker

Advanced hologram master origination

Mature anti counterfeiting production processing

Safe anti counterfeit technology

7×24 hour customer service

4

Professional design team

Provide you with customized brand enhancement and anti counterfeit package solutions




Eco-friendly, Simple, Security, Low-cost

5




Products

Make personalized security hologram overlay for ID cards, Passports Certificates etc.




Supplying optical security hologram overlay to more than 20 countries' governmental projects.

6

Confidentiality

Brand and legality Authentication

Strictly production control

7

Company ability

5000 square meters factory & 10000 level clean workshop

Products exported to 30 different countries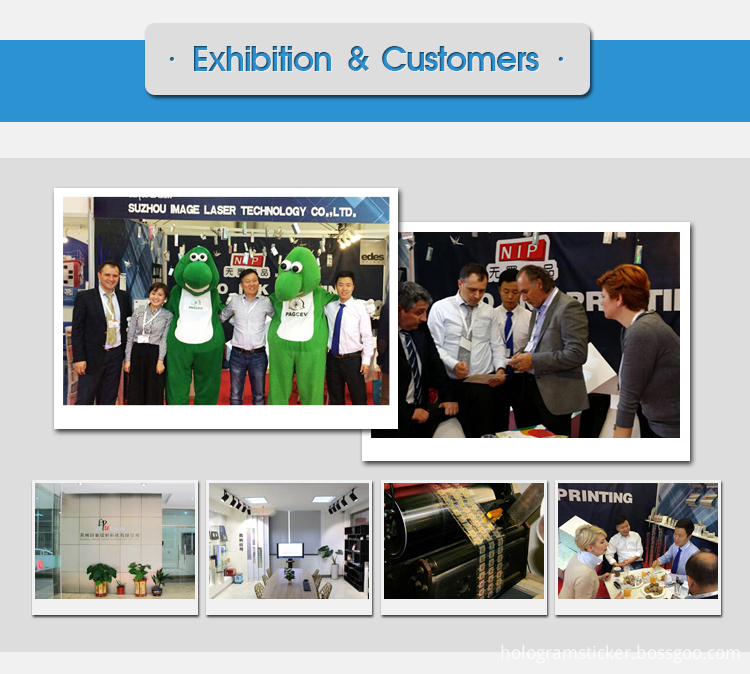 Company information
Suzhou Image Laser Technology Co., Ltd is founded in 2001, have been focused on laser hologram optical anti-counterfeit area for decades, we own a lot of self research and developed micro structure optical mould producing techniques and equipments.
As the security hologram supplier of 2008 Beijing Olympic Games, 2010 Guangzhou Asian Games, 2014 Inchon Asian Games, and security ID certificates design and service provider for both domestic and overseas, we have won a good reputation from our customer and society. We keep influencing and contributing to the development of China anti-counterfeit industry.
Nowadays, we consider "Science & Technology Lead to Environmental Protection, Security Packing Fashion" as our mission, thus do all our efforts to design and create the brand "No Ink Printing", aiming at realizing our commercial values by improving the environment of ink printing and packaging, protecting the brand and products, meet the requirements of consumers need for health and fashion.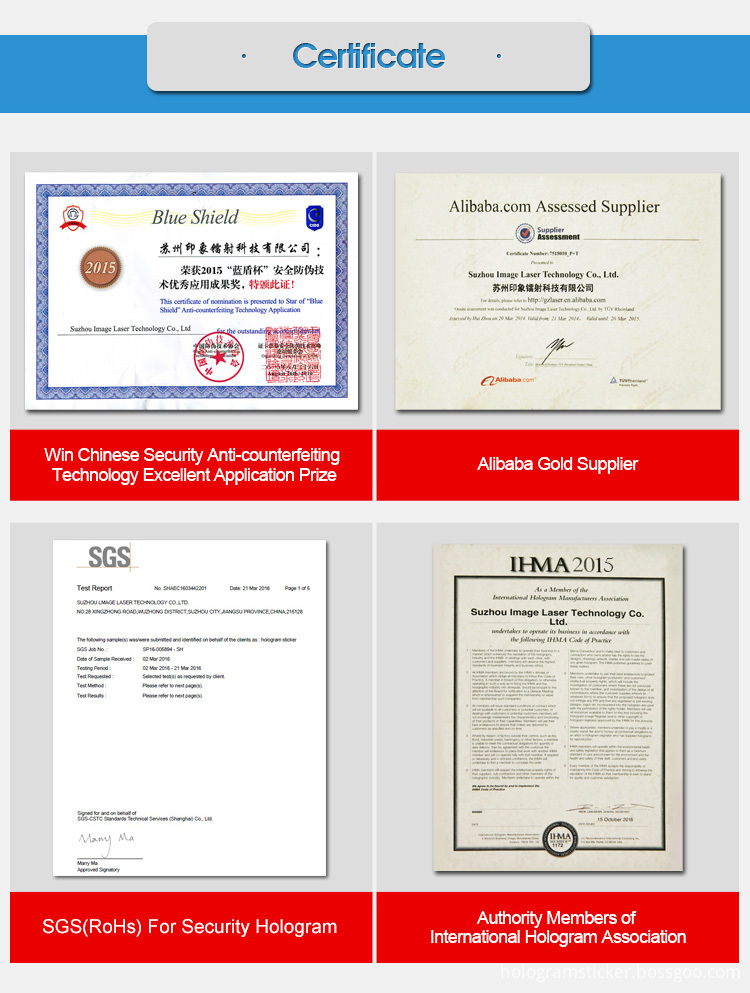 Frequently Asked Questions
1. What's your hologram sticker material?
Usually we use PET material with 25 or 30 micron in thickness, other thickness like 15, 20, 50 micron are also available.
2. Can you make anti-peeling or tamper evident hologram labels?
Yes, we can make it like VOID, honeycomb or customer logo.
3. For Security Hologram, any shape, any color, you can do for me?
Of course, we provide personalized hologram sticker. Round, Oval, Square, triangle, both are ok. Transparent, silver, gold, yellow, etc.
4. I need hologram sticker, please give me your price indication.
The price is determined by the hologram size and artwork. Please send us these information, so we can evaluate and accurate price for you.
5. Can you send me some hologram samples?
Samples are available, we send it for free with freight collect. Kindly provide your express account or please pay the freight to us. We will arrange the samples ASAP.
6. Can I use your generic pattern with my printed logo?
Yes, we can print your logo on background of our generic pattern, like GENUINE, SECURITY, etc. You also can add serial number, barcode, QR code, etc.
7. Why do you need authorization letter?
We're manufacturer of security hologram products. We need authorization to avoid copy and fake. Moreover, it can protect customer`s brand and products.
If you want more details, please visit our website: http://gzlaser.en.alibaba.com/ or http://www.nip-optics.com/
Ürün kategorileri : Hologram etiket > Belirgin Hologram kurcalamak
Bu tedarikçi için e-posta